Flower Press
Greeting cards designed with real flowers using the ancient art of flower pressing. Size: 150mm x 150mm (6"x 6") Blank inside. Printed on soft white, Italian card with recycled natural brown envelopes, (also seasonal silver/ gold available). All our papers are FSC approved.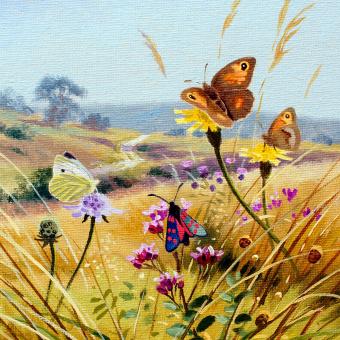 BB13
BB13 WILDFLOWER VISITORS
WILDFLOWER VISITORS The Meadow Brown is abundant throughout Britain in any sunny area where wild grasses are present. It is a mid to late summer flier and is seen here with the day-flying Six Spot Burnet moth and the common Green Veined White.