BOTANIC GOLD
NEW for 2019 ... lush botanical designs to delight the eye ... designed with real pressed plants and flowers on hand painted backgrounds. A brand new original range of smaller cards (size A6) which explores the intricacies of nature's own amazing natural designs. Available soon ! with quality FSC envelopes. BLANK INSIDE for your own messages.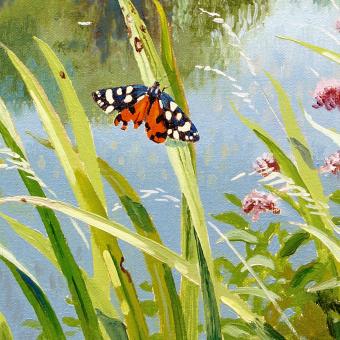 BB19
BB19 SCARLET TIGER MOTH
SCARLET TIGER MOTH This is a beautiful day-flying moth which loves river valleys and damp places. It also flies in coastal areas and will often visit gardens in June and July. Its range in Britain is mainly south and South-West. The caterpillar feeds on a wide variety of plants.