Flower Press
Greeting cards designed with real flowers using the ancient art of flower pressing. Size: 150mm x 150mm (6"x 6") Blank inside. Printed on soft white, Italian card with recycled natural brown envelopes, (also seasonal silver/ gold available). All our papers are FSC approved.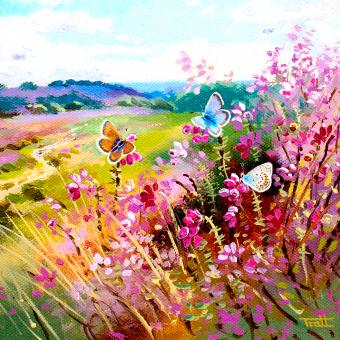 BB 15
BB15 SILVER STUDDED BLUE
Text on back; Silver Studded Blues Smaller than most other blue butterflies, the male is a silvery blue with black borders and white fringes. Â Females have dusky brown wings outlined with orange spots. Â This is primarily a heathland species and caterpillars prefer Heather, Gorse and Bird's Foot Trefoil. The flight season is July and August.