Flower Press
Greeting cards designed with real flowers using the ancient art of flower pressing. Size: 150mm x 150mm (6"x 6") Blank inside. Printed on soft white, Italian card with recycled natural brown envelopes, (also seasonal silver/ gold available). All our papers are FSC approved.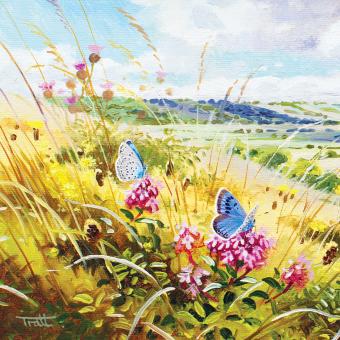 BB23
NEW! BB23 LARGE BLUES
TEXT ON BACK OF CARD: Declared extinct in 1979 this stunning rare blue has recently been successfully re-introduced to the UK by conservationists. Young caterpillars feed on wild thyme before ants carry them into their underground nests. From here they will emerge as adult butterflies next spring. They are, as the name suggests, Britain's largest blue butterfly.